TIMES
September 2021
Open Wednesdays-Sundays
Farm: First admission 10:00. Last admission: 4:00pm
Soft Play: 10 – 5:00 pm
All School Holidays: open seven days
Farm: First admission 10:00. Last admission: 4:00pm
Soft Play: 10 – 5:00 pm
Last farm and soft play admission is 60 minutes prior to closing.
Disabled Access
We offer free admission to anyone registered as disabled.  Please bring a copy of your disability letter for us to keep – for charity funding reasons. We are unable to accept a blue badge as proof. Carers will be charged an admission fee.
---
PRICES
THE FARM
Under Ones: FREE (with a full paying adult or sibling)
Children: £4.00
Adults: £4.00
2 Adults and 2 Children: £15.50 (farm only)
2 Adults and 2 Children: £23.00 (Farm with Soft Play)
Senior Citizens: £2.50
Animal Feed:  £1.50 / cup
SOFT PLAY AREA
£4.00 per hour
Under Ones: FREE (with a paying sibling or adult)
Socks must be worn.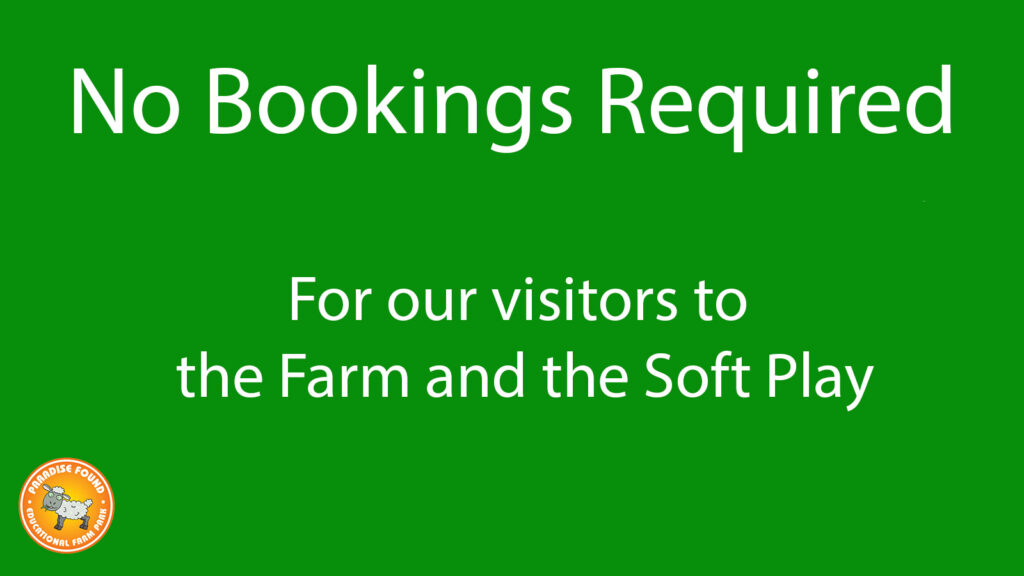 SCHOOL, NURSERY AND PLAY GROUP VISITS
On Mondays and Tuesdays, we offer schools, nurseries and playgroups visits.
Adults £3.00
Children £7.00 including animal feed.
Lunch options can be discussed with a member of staff.
Call Jacquie on 07747 845 668.
Please note:
We do not permit picnics, we have a cafe.
Smoking is not permitted.
---
SPECIAL OFFERS
Each month we have a raffle for a different charity, buy your tickets at the farm and help us support other local charities.  Last month we raised £30 for Great Ormond Street Hospital.
Help promote our Farm Park by reviewing us on Facebook and Google for the chance to enter a monthly drawer to win free entry to the farm and soft play for a family of 5.